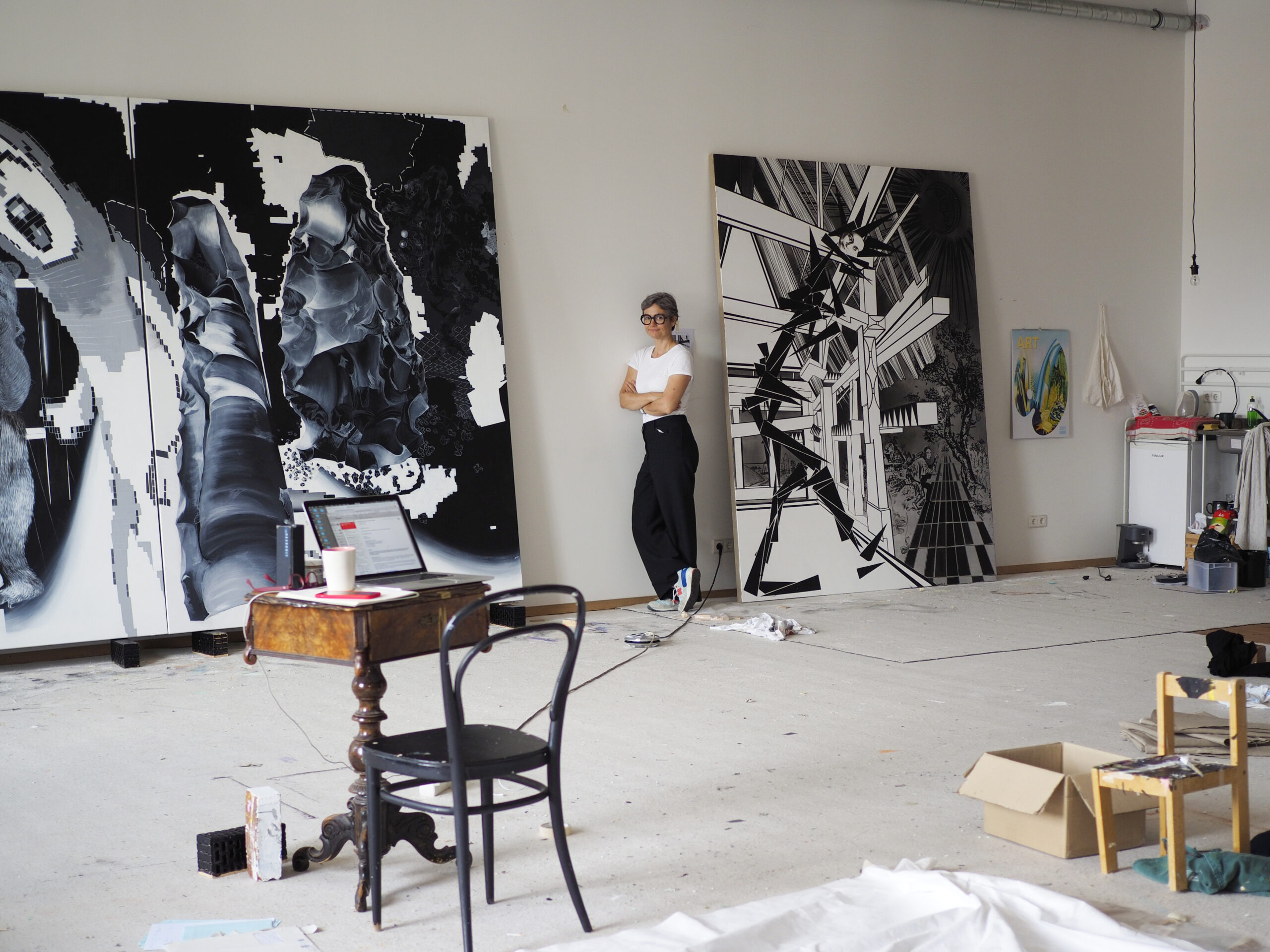 u p c o m i n g
STUDIO – Susanne Kühn & Peter Krauskopf, Museum der Bildenden Künste Leipzig, Eröffnung 18. Juni 2020 the opening is postponed due to Covid-19, summer 2021
SUSANNE KÜHN, Kunstmuseum Celle, Eröffnung 14. März 2021
Susanne Kühn – Flash Realism, Beck & Eggeling Fine Art Düsseldorf, Eröffnung Januar 2021
c u r r e n t
Kunst im Setzkasten, Forum Kunst ROTTWEIL, 20. 9. – 1. 11. 2020
Bayerischer Rundfunk, BR2 "Farbe bekennen", radio content by Barbara Bogen, 24. 7. 2020
DUMONT calendar 2021 has been released. The cover features the painting "Portrait" by Susanne Kühn. With paintings by Olaf Holzapfel, Frank Nitsche, Simone Haack, Tim Eitel, Miriam Vlaming, Sabine Tress and Jonas Burgert.
The painting "Mädchen im Wald" is part of the exhibition Ausgepackt! 125 Jahre Geschichten Museum Natur und Mensch Freiburg 20. Juni 2020 – 10. Januar 2021
Words that transform, vibrate and glow: 13 paintings inspired by the lyrics of Nick Cave, group-show, curated Angela Koulakoglou, Charlie Smith London, with Emma Bennett, Daniel P. Carter, Nadine Feinson, Maggi Hambling, Florian Heinke, Sam Jackson, James Johnston, Susanne Kühn, Concha Martinez Barreto, George Shaw, Dominic Shepherd, George Stamatakis, Rose Wylie opening January 16, 2020
r e c e n t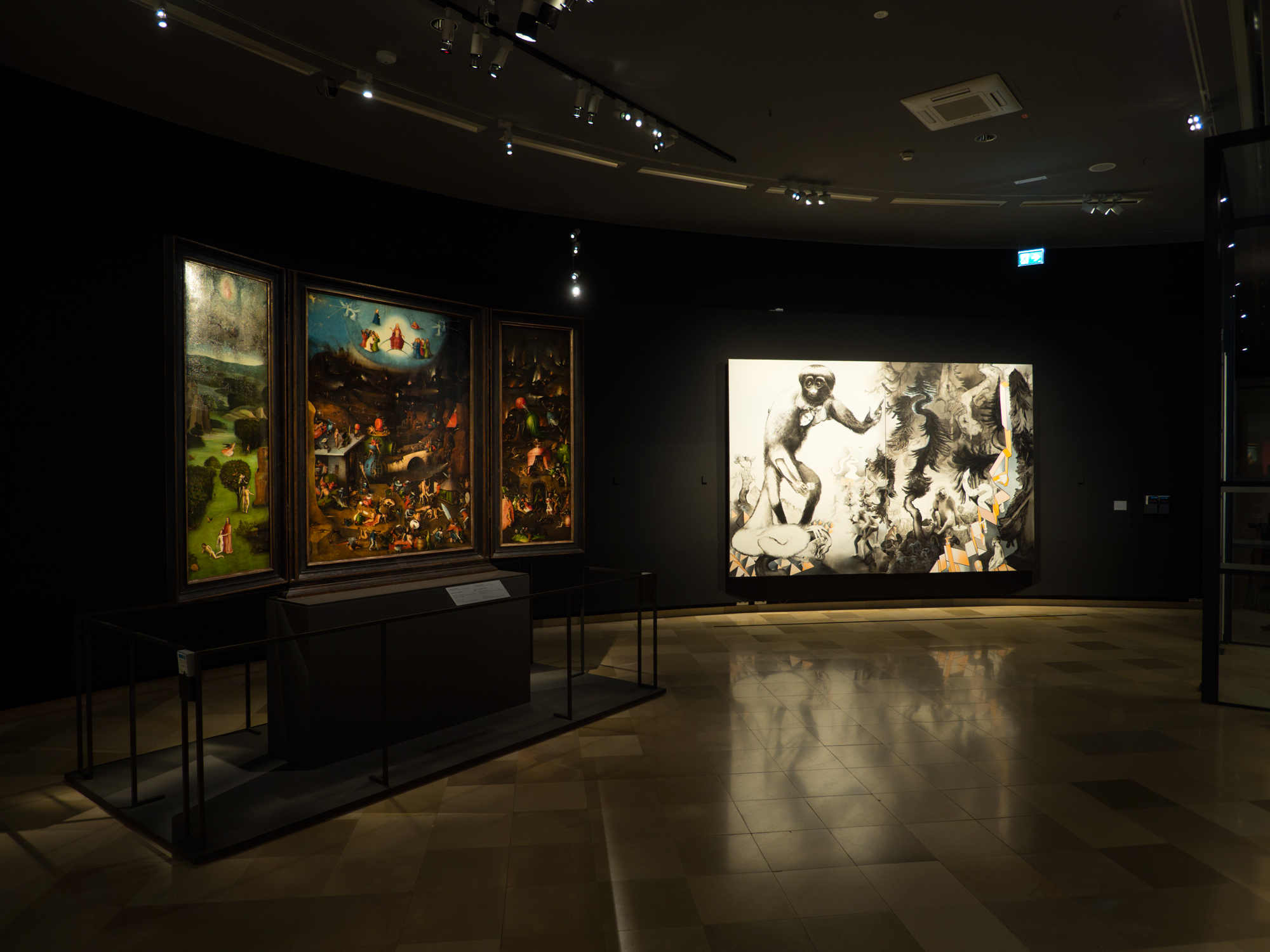 Susanne Kühn kommentiert Hieronymus Bosch, Wiener Zeitung, 12. August 2019, exhibition review by Brigitte Borchhardt-Birbaumer, Gemäldegalerie der Akademie der bildenden Künste Wien
catalogue released: HOUSE for a PAINTING – Inessa Hansch + Susanne Kühn, edited by Felizitas Diering, texts by Gilles A. Tiberghien and Felizitas Diering, les presses du réel
bilingual edition (English / French)24 x 32,0 cm (softcover)48 pages (16 color ill.), design by VIER5 Paris, published by FRAC Alsace in July 2019
New essay released in AICA, Barbara O'Brien writes on the exhibition BOSCH & KÜHN, Beastville at the Paintings Gallery of the Academy of Fine Arts Vienna. "When the water falls", June 2019
Korrespondenzen BOSCH & KÜHN – BEASTVILLE, Gemäldegalerie der Akademie der bildenden Künste Wien (The Paintings Gallery of the Academy of Fine Arts Vienna) solo-show, 16. May – 25. August 2019
"PALETTE", solo-show @ Beck & Eggeling Vienna, Opening May 15, 2019, 16.5.-2.7.2019
Geheimnis der Dinge. Malstücke, Kunsthalle Recklinghausen, Februar 17 – April 7, 2019(G)
To Catch a Ghost, Museum für Neue Kunst Freiburg, 27. October 2018 – 24. March 2019, (G) featuring the work "Old Woman Artist"
"House for a Painting", a large survey of objects by Susanne Kühn and Inessa Hansch, FRAC Alsace, opening September 20, 2018; curator Felizitas Diering (S)
Artist Talk with Susanne Kühn, artist (Freiburg, D) and Inessa Hansch, architect (Paris, F) , October 20, 4.30 pm Lecture Hall FRAC Alsace
"Geheimnis der Dinge. Malstücke", Beck & Eggeling International Fine Art , Düsseldorf, (G), 2019
As part of Sharkive collection (Shark's Ink), the lithographs "Trail", "Spring" and others are now in the collection of the CU Art Museum, University of Colorado, USA, February 2018
"Painting of Landscape" is included in a group-show in London with Sabiha Kurtulmus – Merkur Art Gallery Istanbul, February 2018
solo-presentation of new drawings @ viennacontemporary, opening September 20, 2017 with Beck & Eggeling, Vienna
Multiverse: Stories of This World and Beyond, January 20, 2017 to Wednesday, July 19, 2017, Featuring Artists: Nicole Awai, Elizabeth Huey, Trenton Doyle Hancock, Susanne Kühn, Malcolm Morley, Robyn O'Neil, Lisa Sanditz, Kemper at the Crossroads, Kemper Museum, Kansas, USA, group-show
DuMont ART 2018 calender released featuring: Jonas Burgert, Benjamin Appelt, Tim Eitel, Alexander Iskin, Norbert Bisky, Pia Dehne, Gert & Uwe Tobias, Johanna Jabowlev, Jorinde Voigt, Mirjam Völker, Susanne Kühn und Miriam Vladming
Susanne Kühn – Spaziergänge & andere Storys, solo-show, MNK im Haus der Graphischen Sammlung, Augustinermuseum Freiburg, 18.2.-5.6.2017
Kerber Verlag has published the catalogue "Susanne Kühn – Walks & Other Stories" in conjunction with the exhibition containing an essay by Isabel Herda and an interview between Susanne Kühn and Charlotte Mullins (German/English, 96 pages).
Edition Copenhagen has produced two lithographs on the occasion of the exhibition "Susanne Kühn – Walks & Other Stories", Augustinermuseum Freiburg, Germany
Susanne Kühn, OMI International Arts Center, Ghent, New York, USA, March-May, 2016, solo-show